Our water management services provide the information water- and irrigation authorities need to be able to manage water resources effectively.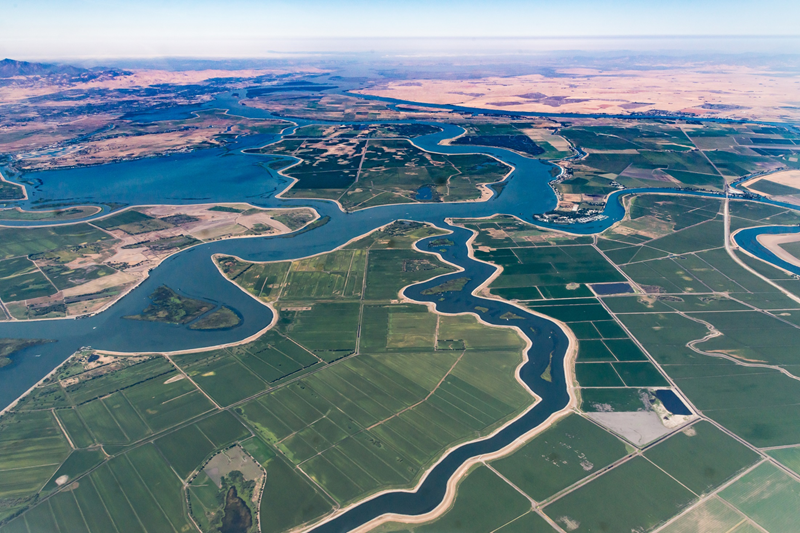 We provide satellite-based data layers at scale relevant for water management, climate analysis and agriculture. Based on our energy balance algorithms, these data layers are quantified, delivered in (near) real-time and can be provided for small irrigation areas up to continental scale. An example is the FAO WaPOR portal, a publicly accessible database for the entire continent of Africa and the Near East for which eLEAF provides decadal evapotranspiration, biomass production and water productivity data going back to 2009. WaPOR supports national governments and other organisations to monitor and report on (agricultural) water productivity and to identify and mitigate water productivity gaps, supporting sustainable water management and food security. The WaPOR data is used in a wide range of open-access applications that extract, interpret, analyze and visualize geodata to improve water productivity.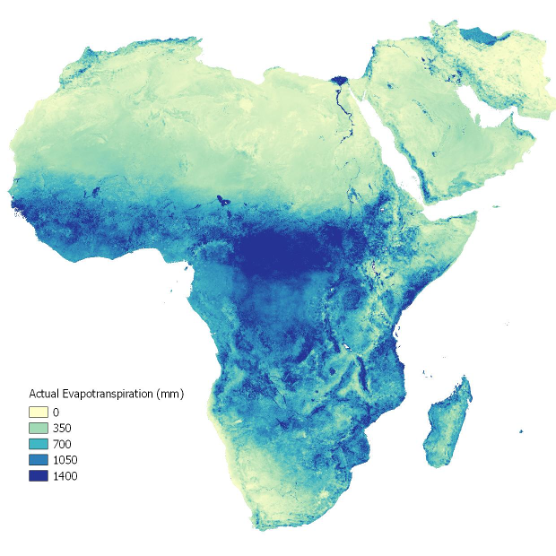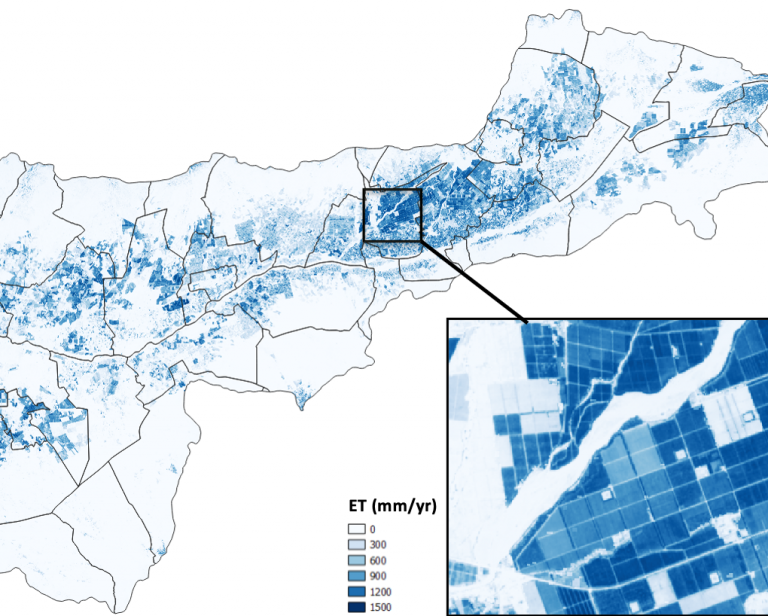 Water Recources Management
eLEAF provides data analytics to support higher-level water authorities and public institutions. Using a direct collaborative approach, our clients get a better understanding of water distribution in the areas under their responsibility, insight into hotspots of high-volume water usage, as well as which areas are water-stressed. Understanding spatial and temporal variations of water availability and demand support the formulation, implementation, and monitoring & evaluation of sustainable water management policies and programs. The format of service delivery is highly customizable for each client and includes consultancy reports, training and capacity building programs, innovative data portals or individual data layers sent via API to be used in operational portals in use at the clients' office.
For operational water managers, we provide rolling daily forecasts of water demand for the coming 5-7 days.  Water demand forecasts can be provided from field level to basin-wide scale, and are based on current vegetation conditions and forecasted weather conditions. Instead of using a widely used standard crop factor to compute the expected evapotranspiration, we use satellite-based crop factors that take the actual current conditions on the ground into account. Water demand forecasts are widely used for effective irrigation scheduling, as it allows irrigation system managers to match water distribution in the irrigation system to the anticipated irrigation demands.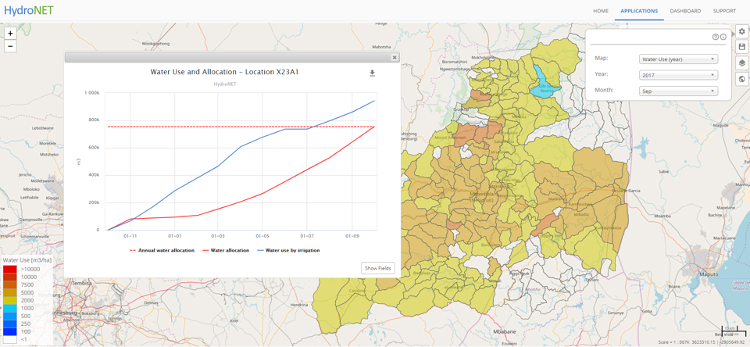 Many countries regulate water quotes that stipulate the amount of water that an individual farmer can use for crop production. However, the actual agricultural water consumption is difficult to monitor which leaves potential overconsumption unnoticed. In this situation, satellite data can provide an objective overview over vast areas at once. Our Water Auditing application uses satellite data to  calculate the water consumption per field, compares this to the allowed water allocation and flags incompliance. This application is field specific, but the data can be aggregated to monitor compliance in larger administrative areas or river basins. Water Auditing gives water managers a tool to start the dialogue with farmers that use more water than their allocation allows, leading to more equal water distribution across the board.
Performance reports provide quick insight in current and expected water distribution and irrigation indicators. Based on free and open datasets, the reports are accessible, easy to understand and objective and can guide policy makers and water and irrigation authorities in their day-to-day operations. Popular performance indicators include:
– irrigation equity (are water deliveries evenly distributed within the system),
– irrigation adequacy (are water deliveries adequate in terms of quantity),
– irrigation reliability (are water deliveries conform to user expectations),
– irrigation efficiency (are losses minimized) and
– water productivity (how much crop is produced per unit of water consumed). 
Reliable irrigation performance indicators contribute to a more effective response to uneven water distribution within the irrigation system. Additionally, water productivity data allows the ranking and labelling of agricultural products according to their water use efficiency, as an indicator of sustainability.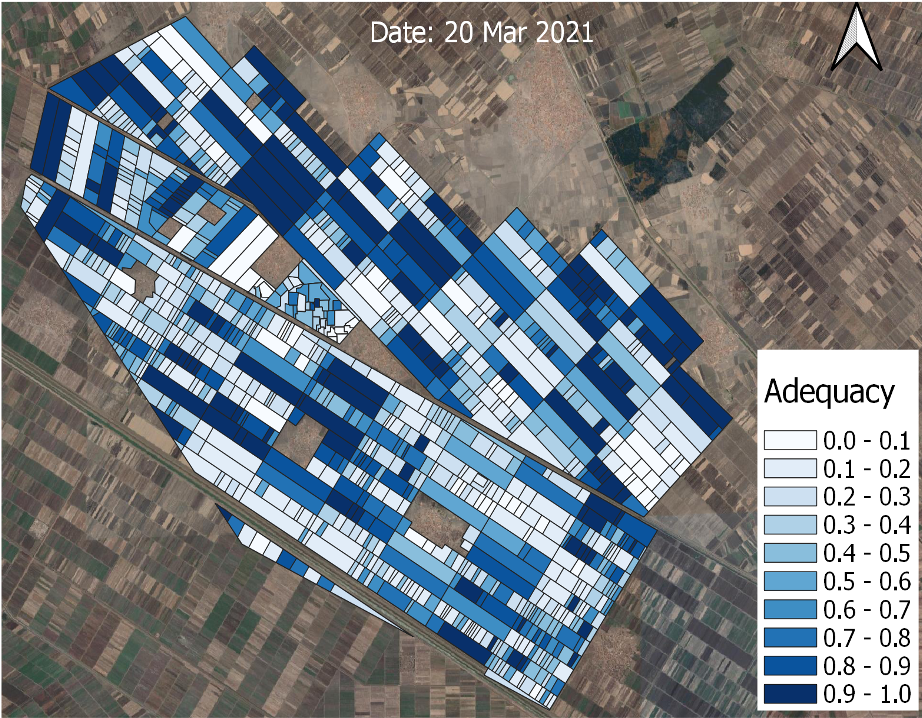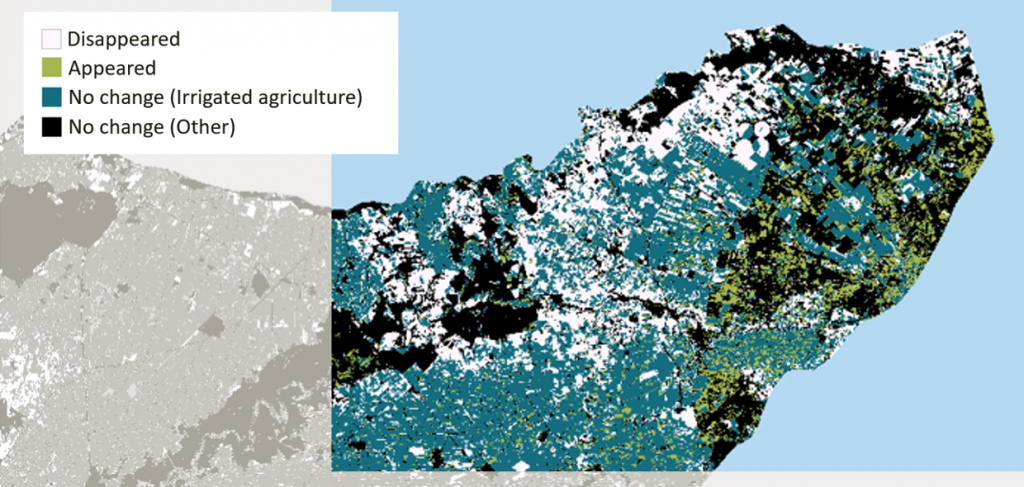 Knowing the extent of irrigated areas in a basin is crucial in matching water supply with demand. eLEAF provides yearly updated irrigated area maps that not only show the spread of irrigated agriculture in a given season, but also identifies areas that are abandoned, or areas where irrigated agriculture is extended when compared to previous years. These spatial and temporal trends inform resource managers and policy makers on agricultural development in their areas, on land cover change and on possible land degradation, all crucial elements to guide sustainable resource planning and monitoring. 
eLEAF provides satellite-based data and services for the agricultural, water management and crop index insurance domains. Our product offering is targeted at the entire agri-business value chain ranging from farmers to food processors as well as non-profit organizations, public institutions and governments.